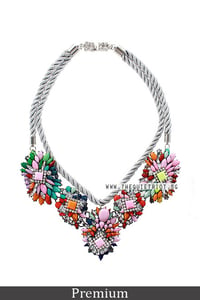 $

39.00 - On Sale
Last piece!
Enthralling and entrancing, this is a truly unique and stunning piece that will capture your heart and any onlookers alike! Wear it by day to add finesse to a casual outfit (because it's too beautiful to save it only for special occasions) Let the compliments flow - and you can thank us later ;)
The Details
Measurements: 26cm total length when hung
Slightly shimmery silver rope
Mixed alloy metals and acrylic plastic
Unique crystal clasp closure.
Item will be shipped safely in a box.
Tip: avoid contact with sweat and water. Wipe clean with microfiber cloth.
Have questions? Contact us!